Get Involved
MLK's Fight for Labor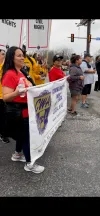 It was the death of two sanitation workers in Memphis, Tennessee trying to survive hazardous working conditions that started a chain reaction that eventually led to change…
…But not before the assassination of Martin Luther King Jr.
*****
FEBRUARY 1968 –
Torrential rains in Memphis, Tennessee have caused the roads to flood. Minority sanitation workers are being sent home without pay while white workers are kept working. Others are forced to work overtime but are not compensated. And even more are sent out in dilapidated work vehicles long overdue for decommission.
Echol Cole and Robert Walker were employees of the Memphis Department of Public Works sanitation crews. Working for 65 cents an hour and still qualifying for welfare and food stamps, they trudged through a particularly wet day driving their route. The two men took shelter from the rain in the only shelter they could find, the back of their garbage truck, when it malfunctioned and crushed them to death.
Torrential rains, flooding, dilapidated work vehicles, abuse, racism, and discrimination.
Death.
Outrage.
Outrage after the city refused to compensate the families. Workers had been lobbying for properly functioning equipment for months. And now two of their own had perished and their families not taken care of. Eleven days after their deaths, 1300 black sanitation workers formed a union, walked off the job, went on strike, and demanded improvements to working conditions and pay.
The Memphis mayor refused. 
MARCH 1968 –
One month after the union's strike, Martin Luther King Jr arrives in Memphis. He has been a driving force in his Poor People's Campaign struggling for economic justice for ALL PEOPLE. Almost one-third of the nation's population lived under the poverty line during this period. MLK held the idea that all people should have what they need to live. He demanded from Congress a package that secured a commitment for full employment, a guaranteed annual income measure, and more low-income housing. MLK wanted to win a "final victory over racism and poverty."
Memphis was to be stage that spotlighted the labor movement and pushed MLK's dream of economic justice.
25,000 people gathered to hear his speech at Bishop Charles Mason Temple.
"Whenever you are engaged in work that serves humanity and is for the building of humanity, it has dignity, and it has worth."

"You are reminding, not only Memphis, but you are reminding the nation that it is a crime for people to live in this rich nation and receive starvation wages."

"You are here tonight to demand that Memphis do something about the conditions that our brothers face, as they work day in and day out for the well-being of the total community. You are here to demand that Memphis will see the poor."
 APRIL 1968 –
On April 3rd, Martin Luther King Jr. made one final speech in Memphis. Speaking to a group of protesting sanitation workers, MLK foretold of his death.
"I've seen the promised land. I may not get there with you. But I want you to know tonight that we, as a people, will get to the promised land."
The very next evening, on April 4th, Martin Luther King Jr. was assassinated.
All across the nation, the people stood up as one and mourned his death. Civil unrest erupted in major cities. Religious leaders pleaded with the Memphis mayor to concede to the Union's demands. The stalemate could not be broken until the President stepped in and demanded a negotiated solution.
Four days after MLK's death, 42,000 people (led by now-widowed Coretta Scott King, SCLC, and union leaders) marched silently through Memphis in his honor.
Negotiator's finally reached a deal on April 16th but the sanitation worker's union still had to threaten additional strikes months later to make sure the city upheld its commitment.
*****
Martin Luther King Jr fought for civil rights, human rights, and economic rights. It was that last focus that led him to Memphis and ultimately his death. His partnership with the sanitation workers union ended with the city agreeing to the union's demands. That union grew to include the police and fire fighters in Memphis. Black and other minority union members became more active in city school boards. Jobs predominantly held by whites only opened up to more ethnicities. Minorities were voted into more city leadership positions.
Here at CWA Local 6143, we take this weekend leading up to Martin Luther King Jr Day to remember that we must always band together and continue his fight against economic injustice.
Attend the monthly meeting
CWA's e-Newsletter
We're building a movement for economic justice & democracy every day. Signing up to receive CWA's weekly e-Newsletter.
CWA's e-Newsletter
Member Benefits
Union Plus offers services and discounts, including savings on wireless service, travel and more.
Member Benefits