Meetings & Events
Blessing Bags for our Homeless

We have a new project starting for AT&T and CWA Local 6143.  The Community Service Committee will be collecting items for Blessing for our Homeless Community. Any help would be greatly appreciated.  The collection will be from May 22nd through June 30th. The list of items include band aids, small packs of tissues bottled water, peanut butter crackers, toothbrushes, toothpaste, body wipes, deodorant combs/brushes and large zip-lock bags.
Please contact Carmen Falcon for questions... 210 249-1181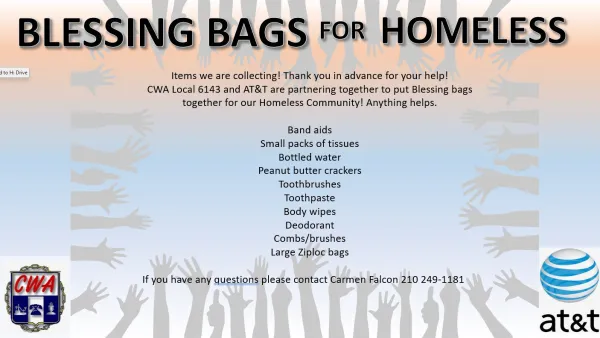 Mobilization In San Antonio
Blessing Bags for our Homeless
Fiber coming to San Antonio
CWA's e-Newsletter
We're building a movement for economic justice & democracy every day. Signing up to receive CWA's weekly e-Newsletter.
CWA's e-Newsletter
Member Benefits
Union Plus offers services and discounts, including savings on wireless service, travel and more.
Member Benefits